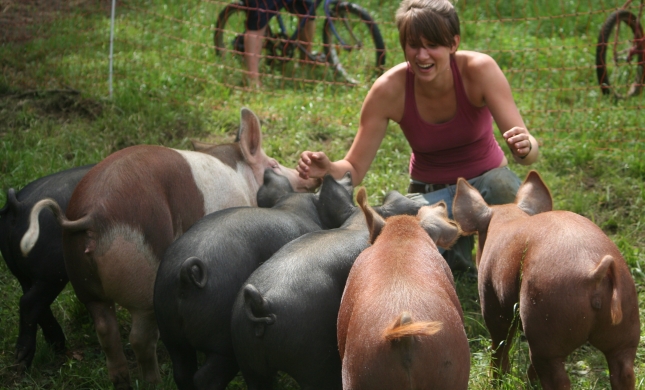 14 August 2017 - by DigInVT - Staff
Vermont Open Farm Week
Do you love local food and farms? Want to get to know your farmer better -- and to get a behind-the-scenes look into Vermont's vibrant working agricultural landscape? Mark your calendar for Vermont Open Farm Week: August 14-20, 2017 taking place at farms across Vermont! 
---
Follow this link for a full listing of events.
Looking for kid-friendly events? Follow this link.
Connecting with your farmer and food through an on-farm meal is a wonderful way to spend Vermont Open Farm Week. Click here for a listing of on-farm meals!
See the listing of workshops by clicking here!
Want to view this all on a map? Click here and explore the pins on the map. Don't forget to click "Learn More" to see the full description of a farm or market.
---
During Vermont Open Farm Week, you can meet the farmers, plants, and animals that bring your favorite high-quality Vermont products to your plate.  
What's the greatest part about Open Farm Week? Every farm is unique!  Milk a cow and harvest a carrot at one farm, sit on a tractor and take in the smell of freshly cut hay at another. Find up-to-date lists of participating farms and search by location or product at DigInVT.com, your portal to Vermont's agriculture and culinary experiences.
With so much happening all around the state, it might seem overwhelming to plan out a fun week. To make it easier on you, we've created a list of events happening on each day of Open Farm Week!
FAQ's
When will the list of participating farms be ready?

They're ready now! Click here to view them.


What can I do at the farms?

The activities from farm to farm will vary. Some farms might have scavenger hunts or wagon rides. Others may have tours, pick-your-own crops, produce for purchase, or animals that you can meet. When you arrive at a farm, check in with a farm employee to see what will be offered during your visit. 

What should I wear, and what should I bring to the farm?

Weather in August can be unpredictable!  Dress in layers and wear close-toed shoes that can get muddy.  Bring along a water bottle, bug spray, rain gear, sunscreen and a camera!  You may also want to bring a cooler, in case there are items you'd like to purchase during your visit.

Will there be food at the farm?

Some farms will be serving food, but look at each farm's listing to confirm what they are offering.

Are you a farmer participating in Open Farm Week? Try this page to find the information you are looking for - http://www.diginvt.com/blog/openfarmweekforfarmers/ 

We can't wait to see you at Vermont Open Farm Week!